Coding Curriculum
With Codementum's Teacher Kit, everyone can easily teach the basics of computer science.
STEM Courses
Integrate coding into any subject with hundreds of PBL projects.
Game-Based Learning
Our interactive learning platform allows kids to progress at their own pace and seamlessly transition to text languages like JavaScript and Python.
Real Programming Language
Using Python and JavaScript, students learn to code and then build their own Mobile games and apps.
Kids will love learning to code with Codementum
Teachers
Teacher Dashboard · Lesson Plans · Assessment Tools
Discover how fun teaching computer programming can be! Codementum's coding curriculum fosters the development of executive functioning skills, such as problem solving and planning, as well as analytical and mathematical thinking. Introduce your students to coding by playing a fun and intuitive game.
Parents
Track Child's Progress · Self-Paced Learning · Parent Dashboard
With Codementum's all-inclusive individual plan, your child will learn to code in no time! Codementum's courses teach block-based and text-based coding so kids learn to program like a real developer. This is coding made fun. No previous experience is needed! Introduce your children to a new fascinating world.
Kids
Fun & Easy · Play & Learn · Be a Game and App Creator
Do you want to start coding now? Kids from 7-17 years old can learn block-coding, text-coding, Python and Javascript all while playing! With our platform, your children will learn all the basic concepts of Computer Science and create their very own games and apps. Codementum Studio
Learn coding in a fun way by playing games!
In our educational gamified platform, children will learn coding while playing an adventurous game.
Codementum App Maker
Develop platform-independent mobile applications!
In both Python and JavaScript programming languages, children can develop mobile applications for IOS and Android platforms with the help of Online Trainer.
Codementum Game Maker
Develop platform-independent mobile games!
Children can develop creative and fun mobile games for IOS and Android platforms, with the help of Online Trainer in both Python and JavaScript programming languages.
Codementum AI-ML Maker
Learn and Develop AI & ML applications!
AI (Artificial Intelligence) & ML (Machine Learning) is everywhere and changing the world. Codementum will introduce your children to the world of AI & ML.
Codementum STEM
Write code for electronic devices!
Electronic kits are a great way for kids to understand how the digital and physical worlds can blend and result in interesting inventions.
Codementum Computer Science
Exercise for coding exams!
With our Computer Science Platform, children can prepare themselves for computing exams using our resources provided on the theoretical topics as well as pseudocode and algorithms.
Quizzes are provided for students to assess their knowledge.
Customizable K-12 Computer Science Curriculum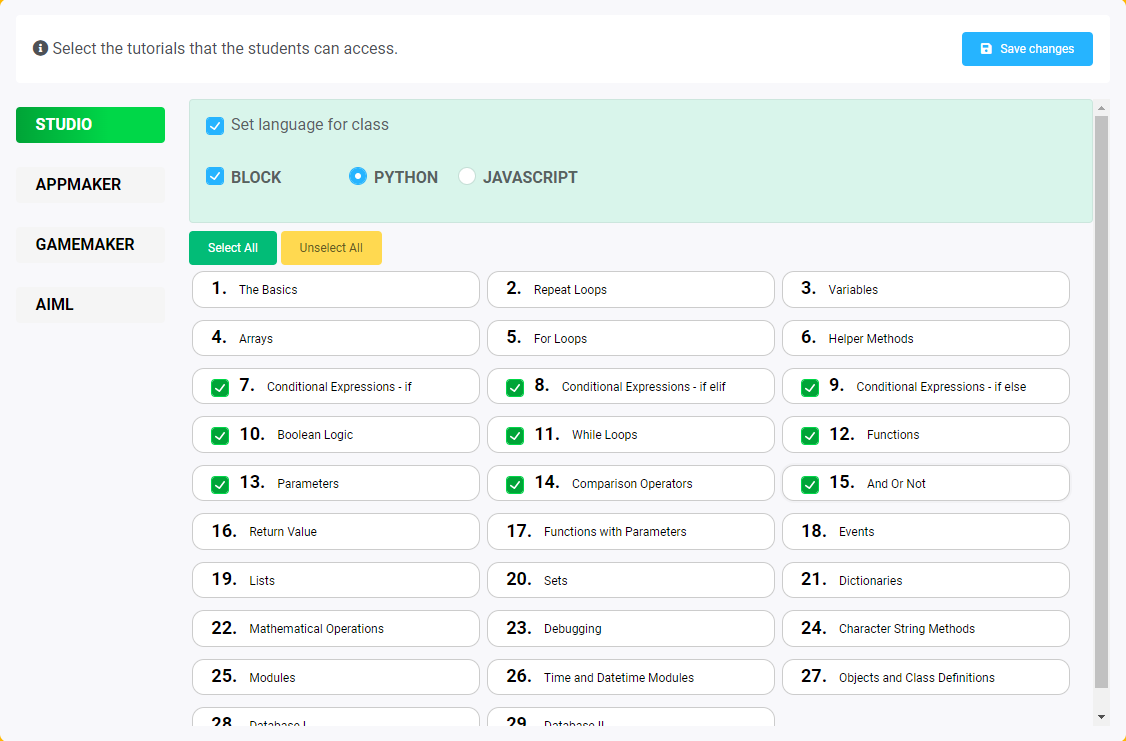 Customizable
Limitation
We have developed a "Set your own content" feature for teachers. Teachers can now assign the content they want to the classes.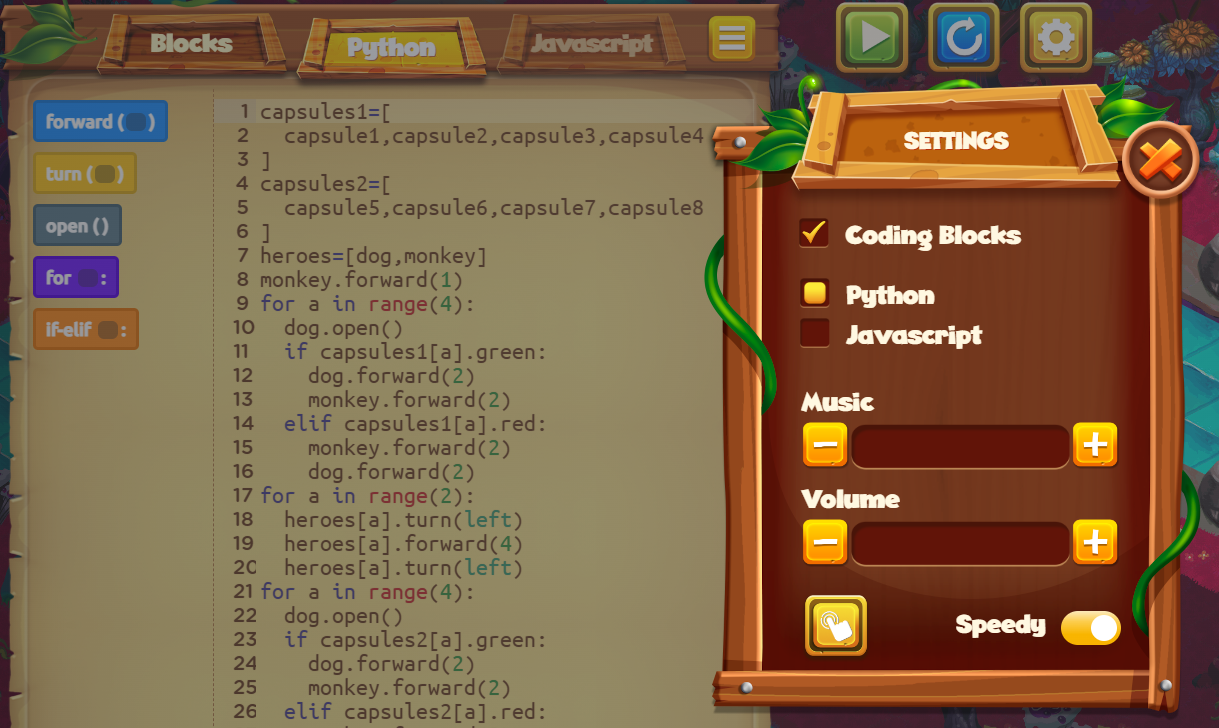 Customizable
Settings
Block mode turn off and the main character go very fast feature.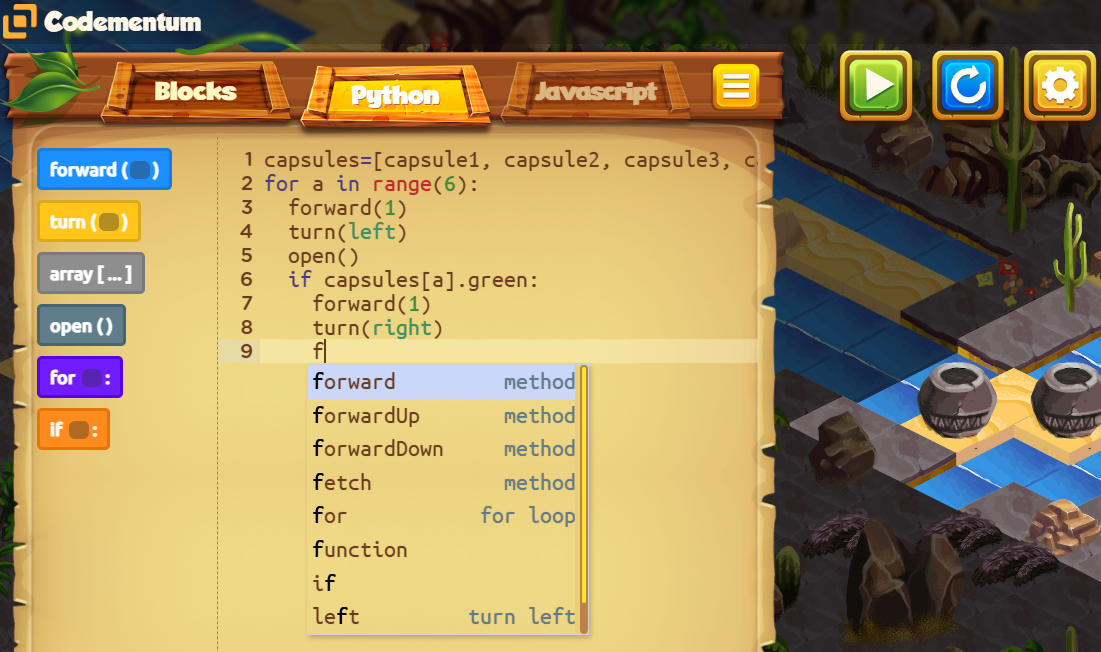 Help
Useful Suggestions
We've developed a "Code suggestion" feature to make it easier for students to transition to text-based coding.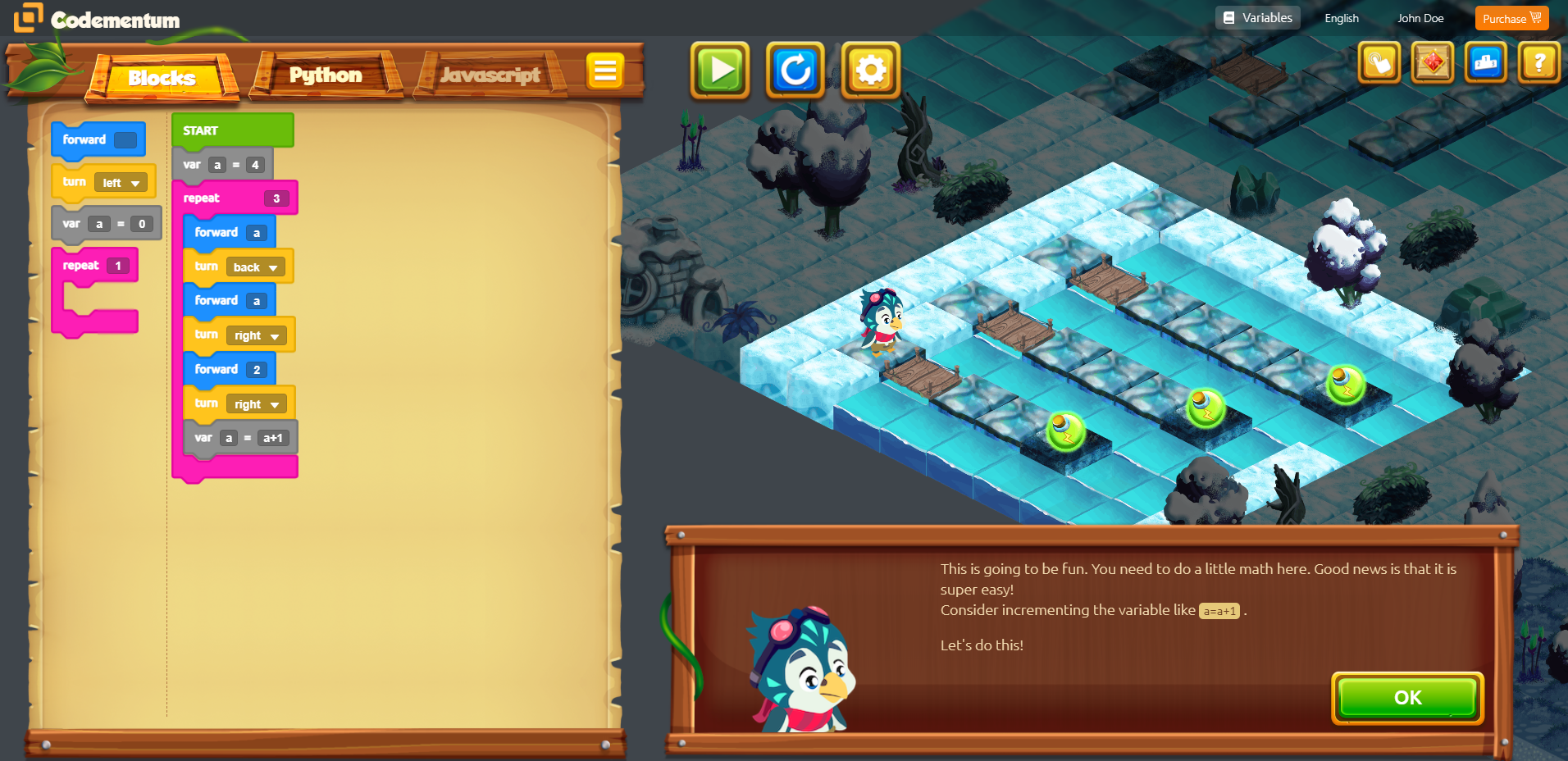 Beginner
Beginner
In our Codementum STUDIO platform, children will learn coding in Python and JavaScript while playing an adventurous game.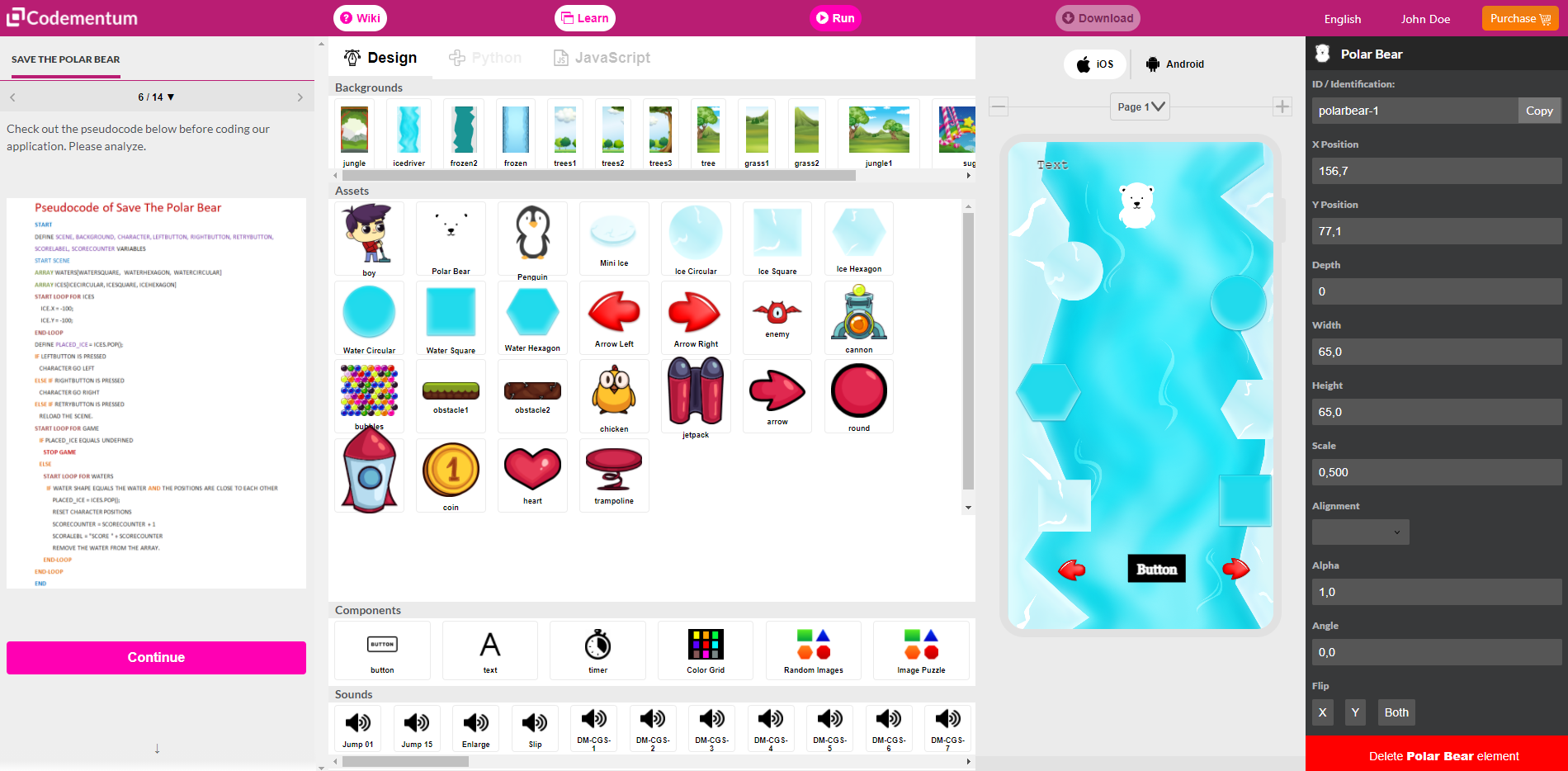 Mid Level
Mid Level
In our Codementum APP Maker and Codementum GAME Maker platforms, children can develop mobile applications and games for IOS and Android platforms with the help of an online trainer.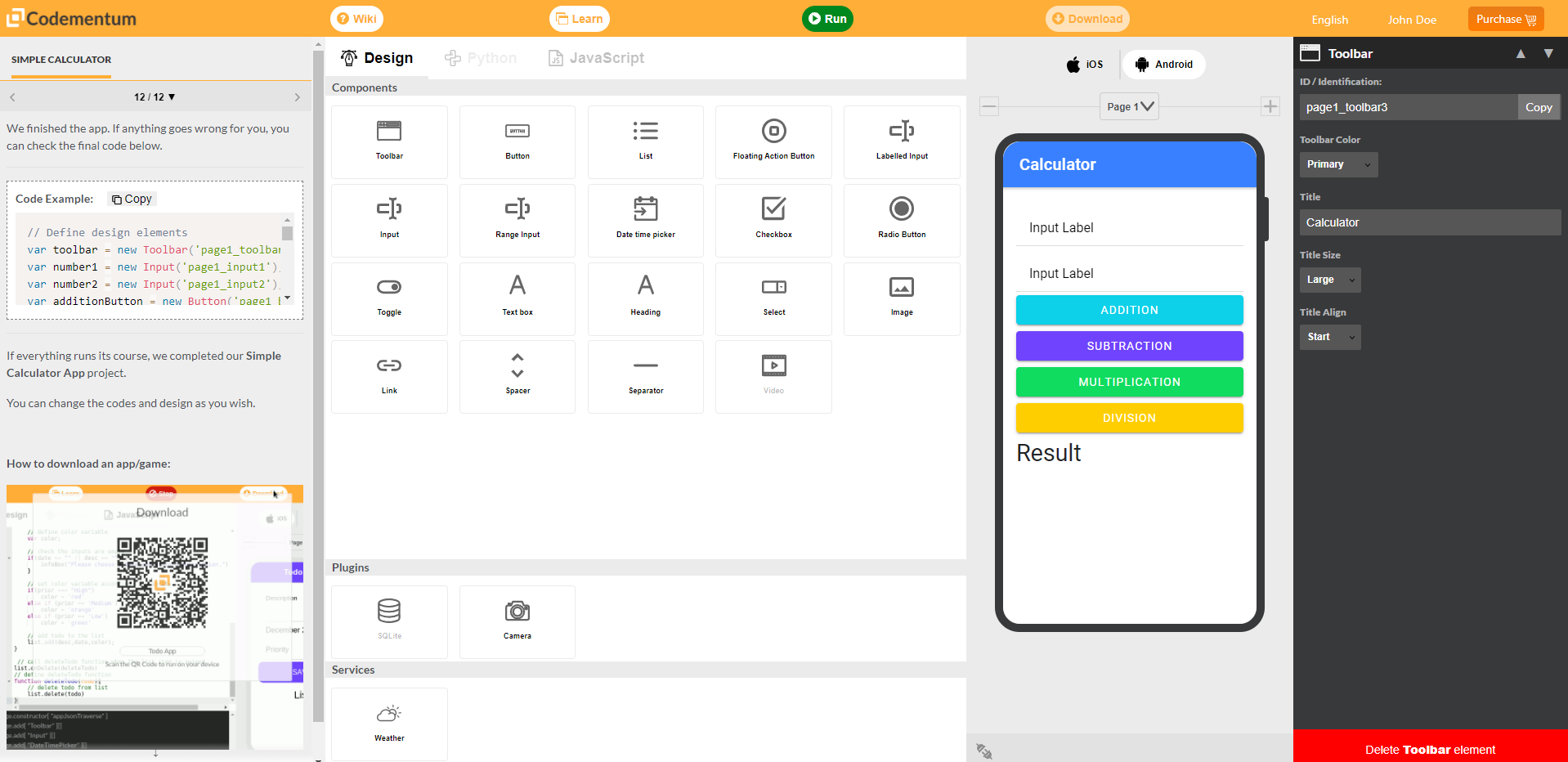 Advanced
Advanced
In our Codementum AI (Artificial Intelligence) & ML (Machine Learning), children will learn how to develop AI & ML in a simple and creative way.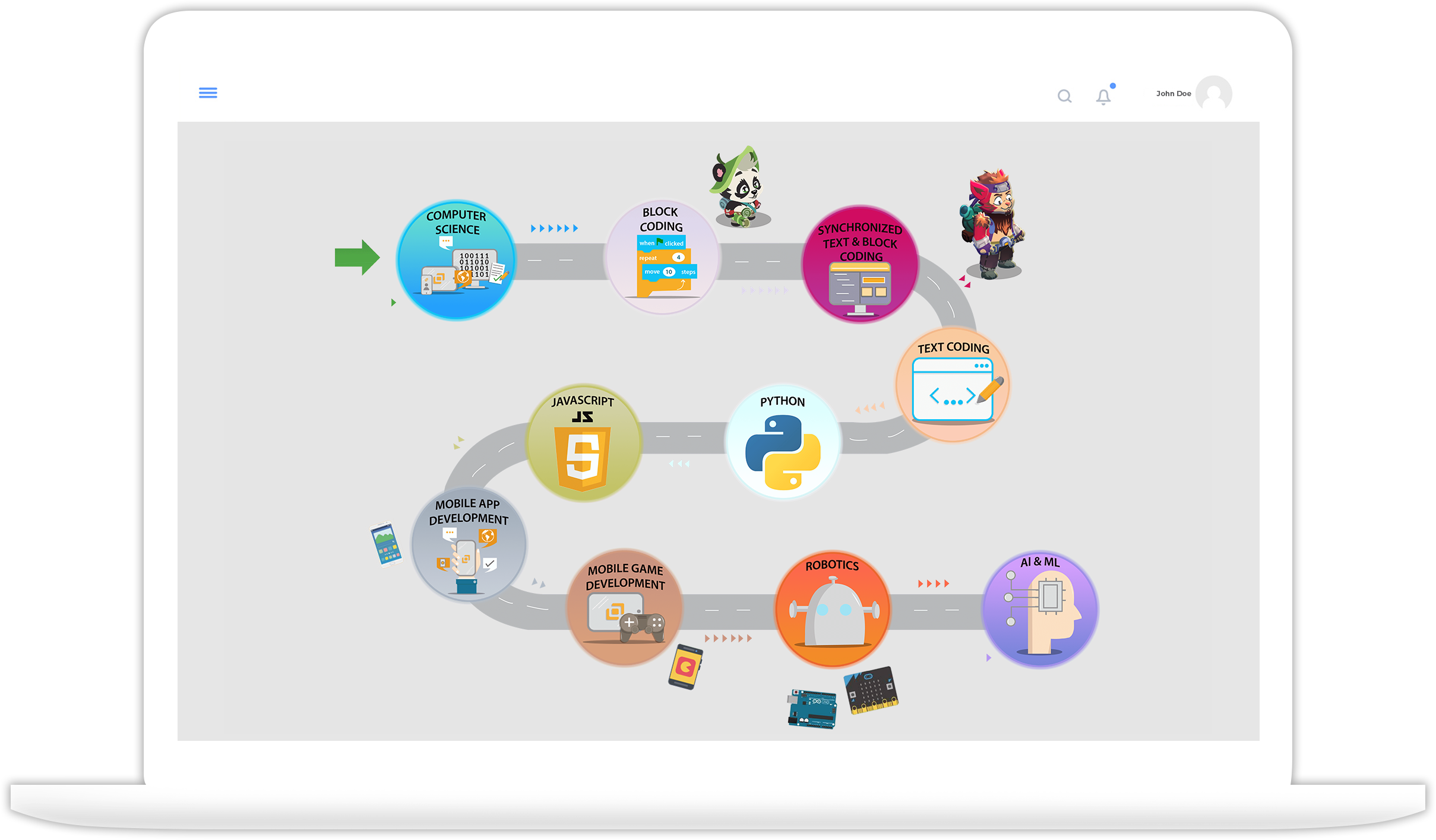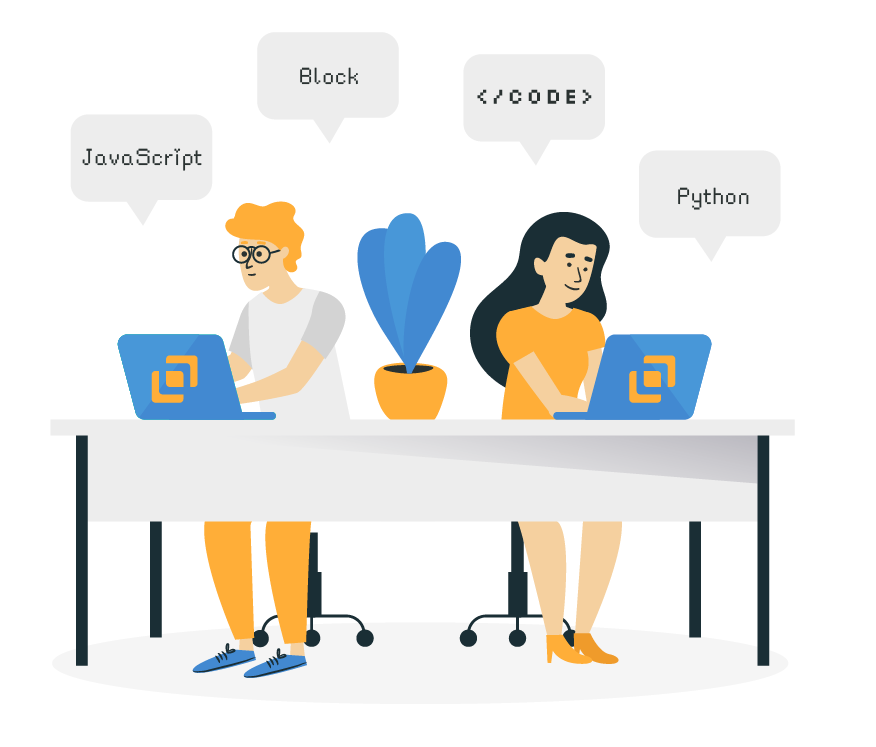 No previous experience in coding required
Codementum is designed as a classroom resource with fully-guided lesson plans. This means, every teacher can teach the Codementum courses, even if they have no prior experience in Computer Science. We provide you with everything you could possibly need.
Monitor & assess your students progress
With our Teacher Dashboard, we save you both time and effort when monitoring your students' progress.
On the Dashboard, you can see how far your students have progressed through the courses and how well they have performed. This in turn makes it easier to find a topic in which the students were struggling and address it specifically.
Our automatic grading system saves you a lot of time to evaluate your students.
Synchronized Text-based and Block-based coding
With our Synchronized Text-based and Block-based coding system, children can switch between text code and code blocks at any time.
This way children can learn how to write real code and establish algorithms with the help of code blocks.
By converting text-based codes into blocks, children will be able to construct algorithms faster by visualizing the code when they write.

Choose Your Best Affordable
Pricing plan
The website is truly amazing. There are so many activities for all age ranges. The activities are not just classwork, there are ideas to teach after-school clubs with videos and lesson plans. So much effort has gone into designing a website that is easy to follow and understand Computing which many people have found difficult to comprehend.
Codementum is an excellent tool for both beginners and those who wish to expand their coding knowledge. They have managed to make a fun, practical and unique way to learn coding which will always leave the user wanting to come back and learn some more.
I have been using codementum.com with my KS3 classes. They really enjoy learning to code in the studio. The teacher dashboard and reporting feature has significantly reduced my workload when it comes to assessing their coding work. So far we have really enjoyed using it.
My daughter who is 12 years old has been using codementum.com for a few weeks now and she has loved it so much. I feel like it was a good investment to make as she is learning whilst also playing games. She is getting the coding knowledge she has not been able to get in school with codementum.
We are loving Codementum, so much so that my daughter wanted to post about her experience with codementum in her google classroom which made her friends also buy subscriptions. She says it has helped her learn to write commands and she is moving through the challenges very quickly as she is so motivated to learn coding. Thanks Codementum!
One place to control your teaching activities and a very user-friendly interface to learn to code.
Seamless switching between blocks and text plus easy onboarding make this coding curriculum great. There's a teacher-friendly dashboard, curriculum resources, and plenty of support. Walk-through tutorials and the flexibility of switching between programming languages helps students learn. Teachers can use the platform to help students with fluency and confidence as a launch activity. This is a fun, engaging means for students to acquire exposure to coding and coding concepts, then apply them by developing games and applications.